Planning for Your Pet's Future – What to do if something happens to you
Although we believe we will always be around to care for our pets, pet lovers are far too often faced with the unexpected–everything from a natural disaster to an accident or illness where the pet parent may be required to move into a permanent care facility, become incapacitated, or die without addressing the ongoing care of their pets. There are too many sad stories of pets that were overlooked when their owners became ill, had to be hospitalized, went to a nursing home, or passed away. Tragically, animals have run away or have been forgotten in the home of their owner. It is estimated approximately 500,000 pets are euthanized annually because pet parents didn't have a plan for their pets. To prevent these unnecessary and tragic occurrences it is imperative to develop a written action plan for your pet in the event of an unexpected event or disaster.
Formulate your written action plan to include the following provisions:
Your written action plan starts with identifying at least two people, "pet caregivers," who agree to be responsible for your pet if something happens to you, including incapacity, death, or natural disaster. These trusted individuals should have access to your home, care and feeding instructions for your pet, the name and contact information for your veterinarian and written instructions for the long-term or permanent care of your pet, including final plans for your pet in the event your pet should die. The individuals you choose can either be short-term, long-term, or permanent caregivers depending on the plan you intend to implement for your pet.
Compile a notebook of information detailing the "babysitter" instructions for each pet. These instructions should include a photo, identifying information, veterinary information, health records, feeding instructions, care requirements, etc. Assume your caregiver doesn't know anything about your pet and you are leaving comprehensive instructions.
This notebook should be updated periodically and kept in a safe place with your other important estate planning and financial documents outlining the instructions to take care of you, including Powers of Attorney, Health Care Directives, Living Trusts, and Wills.
Include provisions in your estate plan to detail your wishes with regard to the care and disposition of your pets in the event of your disability or death.
There are a variety of estate planning options for you and your pets. Studies have revealed that somewhere between 12 and 25 percent of pet owners include their pets in their Last Will. Naming a pet as a beneficiary of a Last Will can be dangerous because pets are not permitted to inherit property and the time it takes to administer your Last Will through probate may interfere with the care needed by your pet. We recommend you consider Stand Alone Pet Trust as part of your estate plan.
When planning for your pet, it is important to consider not only what will happen in the long term but what might be necessary, in the immediate short term, after the event that prevents you from caring for your pet.
Recently, Peggy founded Animal Care Trust USA, a not for profit organization, dedicated to one mission, "Keeping loved pets in loving homes." Animal Care Trust USA offers a number of solutions designed to provide pet parents with their choice of long term care options for their loved pet. These solutions include Forever Home, Forever Family and Forever Sanctuary. In additon, Animal Care Trust USA is qualified to act as Pet Trustee and offers pet parents the Forever Loved Pet Trust. If you want more information about Animal Care Trust USA and solutions for your pet, call Peggy today.
Many people choose to leave their pet to a named individual without the creation of a Pet Trust. This may work, but there is no guarantee that person will be willing or able to provide the necessary care. Providing your pet caregiver with a sum of money is the next best option, but still provides no guarantee or oversight to ensure your pet is receiving proper care. Only a Pet Trust provides for a Pet Caregiver, a Pet Care Panel and a Trustee. Each person or organization fills a different role in the lifetime care of your pet providing peace of mind and additional checks and balances.
Animal law is a growing area of legal practice. Almost every area of law has an animal law aspect. Animal law can include criminal law, family law, estate planning, property law, entertainment law, disability law, just to name a few. Attorney, Peggy R. Hoyt is a pet mom, animal advocate and concentrates a portion of her practice in animal law related to estate planning for pets and pet dispute resolution. Peggy is the author of All My Children Wear Fur Coats – How to Leave a Legacy for Your Pet and the Pet Lover's Guide to Mediation. Peggy hosts a weekly podcast on Buzzsprout called "All My Children Wear Fur Coats with Peggy Hoyt" where she and her guests discuss issues relevant to pet owners and lovers. You can listen to archived shows by clicking here.
Pet Trusts Planning Process
Our estate planning process begins with education. You are invited to attend a complimentary educational workshop on Estate Planning, Medicaid Planning, Special Needs Planning, or Pet Planning. This choice is yours. Workshops are helpful in answering questions before you meet with an attorney, but they are optional and not required.
Educational Workshop (Optional)
Join us in our classroom for an interactive workshop designed to educate families about general estate planning principles, the federal estate and gift tax structures, and the importance of implementing and maintaining a relevant estate plan. We highly recommend you attend an educational workshop, but it is optional.
Discovery and Decision Dialogue
Discuss client and attorney commitments. You teach us about yourself and your family; we teach you about the law and how it affects your family. Then, together we can explore optimal planning solutions. (One and a half hour one-on-one consultation. Consultation Fee $200.00 – Applied to planning fee.)
Counselling and Design Meeting
We will work with you, your family, and advisors (optional) to custom design your plan. (1/2 of your fee is due.)
We review and sign all drafted documents. (Remaining 1/2 of your fee is due.) Asset Ownership and Protection; Updating, Education, Maintenance & Support can be provided at an additional fee.
Pawcast - All My Children Wear Fur Coats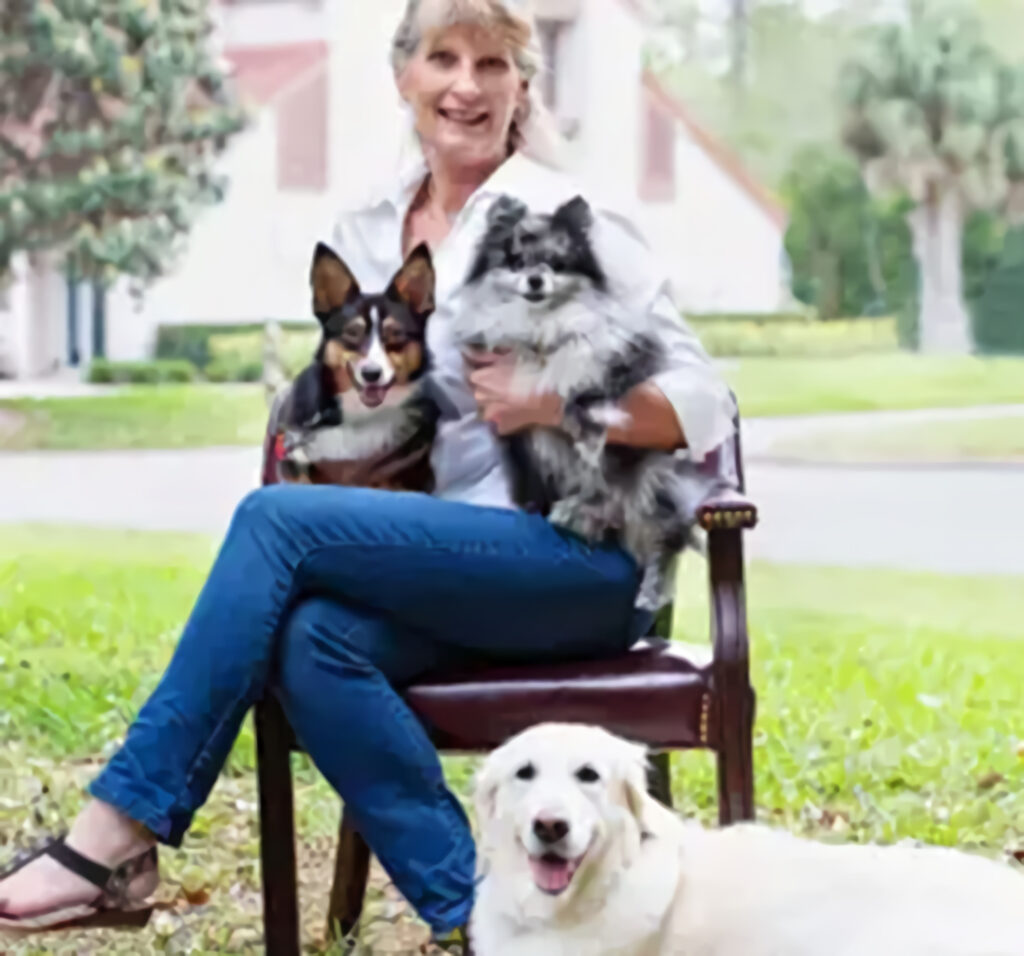 All My Children Wear Fur Coats with attorney, animal advocate and pet mom Peggy Hoyt is a weekly "pawcast" for pet lovers and their furry kids. Favorite topics include animal rescue and welfare, pet loss and grief, estate planning for pets, pet health and wellness, unique pet products, protecting pets in disasters, and animal communication, just to name a few. With more than 200 guests since its creation, All My Children Wear Fur Coats has something for every pet pet parent and animal lover.
Host, Peggy Hoyt is a Florida estate and elder law attorney whose passion is her six dogs, 3 horses and two cats. She helps her clients and listeners create estate plans for pets…and their people. Peggy grew up in the world of animal welfare (her dad is John A. Hoyt, former President and CEO of The Humane Society of the United States).
Today, through this podcast, her estate planning law practice, membership in the Florida Bar Animal Law Section, and as founder/CEO of the 501c3 non-profit Animal Care Trust USA, Inc. she spends all her time advocating for pets and pet parents. Our pets share our day-to-day struggles, adventures and special moments. They love us unconditionally, help reduce stress and even enhance longevity. For all these reasons and so many more, join us each week as we explore solutions for ensuring your pet's future. Pets are not our whole lives but they make our lives whole.

Estate Planning
Wills and Trusts, Probate and Trust Administration, Guardian Advocacy and Guardian Advocacy, Special Needs Planning, Powers of Attorney and Advance Directives, Asset Protection Planning, Estate Tax Planning, Charitable Planning, Pet Trusts
and Planning, and Mediation.

Elder Law
Long-Term Care Asset Protection, Medicaid Planning and Applications, Adult Medicaid Eligibility, Qualified Income Trusts, Powers of Attorney and Advance Directives, Nursing Home Issues, and Veteran's Benefits.

Trust and Estate Administration
Formal Probate Administration, Summary Probate Administration and Trust Administration.

Special Needs and Disability Planning
Special Needs Trusts, Supplemental Needs Trusts, First Party Trusts and Third Party Trusts.

Guardian Advocacy and Guardianship
Guardian Advocacy, Plenary Guardianship, Guardianship of the Person, Guardianship of the Property, Voluntary Guardianship, and Minor Guardianship.

Pet Trust
Guardian Advocacy, Plenary Guardianship, Guardianship of the Person, Guardianship of the Property, Voluntary Guardianship, and Minor Guardianship.